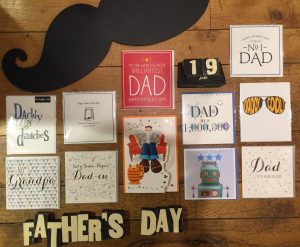 Oh no, it's that dreaded time of year again…Father's day!  Bless them…It's not even on our radar until the day before and then it's panic station! "Did I get him socks last year?" "Where is open on a Sunday morning?" "Surely a bottle of beer will do?" "He won't even notice!" I have thought all of the above and this year I have promised to be different.  So here it is, my very first blog to get me into the 'Father's day zone'.
I feel for our poor old dads.  They have to watch on by as our mums are treated like visiting royalty and no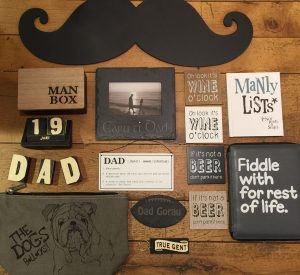 expense is spared to ensure that they have the perfect day. We make sure that our mums are presented with a beautiful hand written card that has been bought and stored for weeks. Then it's the hand tied bouquet of freshly cut flowers along with a perfect gift.  But, it doesn't stop there.. oh no!  This is Mother's day so it means booking a table at a nice restaurant and taking her out for the day. Don't get me wrong..I would be totally lost without my mum.  She is awesome and is my own personal nanny, nurse and councillor all in one.  I only wish I could treat her like royalty every day but what about dad? He is pretty awesome too! He is my personal chauffeur and is the 'on call' spider catcher and general dogsbody.
Our dads deserve a bit more, so first things first a special card…Welsh, English or Humour .. we cater for all here
at Cuckoo's Nest!
…so is it "Daddy or Chips?".. It is definitely daddy and at Cuckoo's Nest we have lots of gift ideas to show him how much he means.
Happy Fathers day, lots of love dad…I'll always be a daddy's girl xxx